Our practice has been a family business since 1926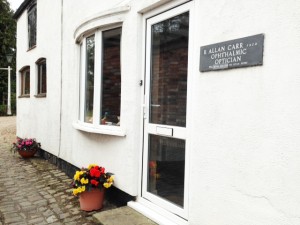 Ralph Carr Opticians was first established by Ralph himself, in 1926, at 101 Church Street where he literally lived 'over the shop'. In 1976, following the 50th anniversary of the increasingly successful St Helens practice a second site was established in Lydiate.
Ralph was the first professional optician in this country. The practice he established has been handed down to Ralph's son Allan and then to Allan's son Ian who still works at the practice today alongside his wife Janet.
Ian qualified as an optometrist in 1990 and took over the ownership and management of the practice just a few years later. He remains the sole optometrist at the practice as it approaches its 90th anniversary which will be celebrated in 2016.
Ralph Carr Opticians has always remained in the family, having been owned by three generations since 1926. Today, the team contains six members of the same family, including Ian and Janet who is the Practice Manager.
We're very proud of our history, having built on our strong community reputation. We'd love to see you in practice soon, whether you're an existing client of ours or will be visiting for the first time. Daytime appointments are available at our St Helens practice, or evening appointments can be scheduled at the Lydiate practice on request where free parking is readily available.